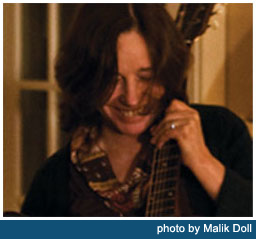 Welcome!
It's been quite a journey. Over the years, I've been writing and adapting songs while culling others from a variety of traditional sources. I've carried some of them in my back pocket since my early days back in New York City.

I started work on this collection in Paris, where I worked for 12 years as a studio singer and touring musician. Once in a while, whenever I had a bit of free time, I'd record a song with my Parisian musical family. Before I knew it, I had the beginnings of an album. I carried the masters back to the USA and, following a hiatus, brought them out for a listen. I then decided to somehow complete the project. Music always will reclaim its roaming souls...

Around the same time, I had the good fortune to meet up with Colin, who patiently encouraged and inspired me to follow through. Invisible Angel is for me, a fond retrospective of a bilingual, bi-continental life and a free-fall into the future; a portrait of who I was, am now and may yet become, if I don't change my mind.

Thanks so much to everyone who helped me along the way. Merci à tous!
---
Listen to
Nikki's interview with Peter Biello on VPR's Morning Edition
---