Long Biography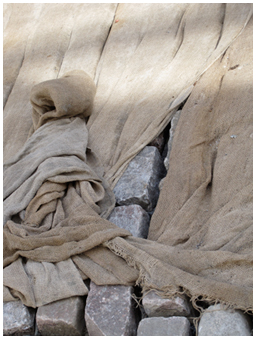 Canadian-born singer/songwriter/instrumentalist/educator Nikki Matheson is a graceful contradiction, a globe-trotting homebody, an unfettered, questing spirit and a disciplined professional, a daringly versatile stylist with a steadfast, genuine core, her nectar-and-nettles mezzo-soprano an instrument of enticement, solace and challenge.
Nikki was born in Toronto to a French-Canadian mother and Scottish father but the bi-lingual, musically omnivorous household soon relocated to a small Hudson River town near the greater New York area. Her father, who was an enthusiastic big band and Sinatra fan, took Nikki, her brother and sister to Madison Square Garden for the annual Highland Pipe Band shows, taught her to play ukulele until her hands got big enough for a guitar, and located a jazz musician to teach her piano (as part of her training, she was required to write one song per week). As he himself enjoyed singing in church, he encouraged his daughter to join a local choir, which provided a strong grounding in multi-part vocal composition and performance. Partly because she shared her mother's passion for classical music, she tackled bass clarinet while in middle school and was soon playing in chamber music ensembles. Meanwhile, being a child of her times, she was mesmerized by the Mothers of Invention, Laura Nyro, Sandy Denny, Traffic, The Band, The Byrds, the Allman Bros, The Beatles, Crosby, Stills and Nash, and Sonny Rollins.
After attending university in the USA and France, and a few years devoted to costuming for rock and country videos, Nikki was drawn into the Manhattan folk scene. She found a generous mentor in the late Dave Van Ronk, who encouraged her to hone her instrumental chops, refine her vocal and songwriting skills, and swap licks with other up-and-coming musicians (Suzanne Vega, Shawn Colvin, Christine Lavin). She soon found a friendly berth for her live music explorations at Speakeasy, a musician-run club where the members sang together in assorted combinations while learning the intricacies of stage-management, booking and publicity. Being bi-lingual, Nikki was often called upon to interact with international talent, which was how she met French artists Gabriel Yacoub, Dan Ar Braz, and Pierre Bensusan.
Around the same time, she co-founded the swing and new acoustic music group Rhythm and Romance with banjoist extraordinaire Akira Satake while playing traditional French and Irish music in The Rentones with fiddler Lisa Gutkin. She was soon performing throughout New York and the USA, Canada, Europe and Japan with assorted bluegrass, new acoustic and jazz ensembles; among the latter was Swing Street with guitarist Frank Vignola and clarinetist Ken Peplowski.
Wishing to expand her potential, Nikki studied with Grammy® nominated jazz stylist Janet Lawson (http://www.janetlawsonscats.com/), who helped her get over any residual nervousness about singing solos, and took master classes with Abbey Lincoln and Sheila Jordan. She became a vocal major in an accelerated music program at Kingsborough College and polished up her studio skills at the New York School of Commercial Music.
A 1987 move to Paris, France was supposed to last only a few months but stretched out to 12 years. Nikki was soon involved in collaborations with Gabriel Yacoub, who had just re-formed his seminal 70s-era folk-rock group, Malicorne. Nikki was back-up singer and instrumentalist on three of his recordings, including the acclaimed Quatre (1994). She also worked with chanson legend Georges Moustaki, art-rocker CharElie Couture, the avant-garde jazz group "Urban Sax", and a popular Grateful Dead Tribute Band called Deadicace, among others. She was picked for the coveted role of "Guinevere" on Excalibur (Sony - 1999), an ambitious, Gold-selling project featuring Breton icons Tri Yann and Dan Ar Bras, along with Rodger Hodgson (of SuperTramp), Fairport Convention, and several other major acts, plus The Prague Symphony Orchestra.
From 1997-2000, Nikki was employed by the Norwegian Concert Institute in a program designed to instruct youngsters in English and the history of American traditional music. Further, she sang lead and co-wrote the title tune for vocal wizard Marc Beacco's third album, Tomato Soup (Polygram Jazz), which included guest artists Michael Brecker and Jerry Douglass and was showcased on National French Radio as "album of the month." She also sang, wrote lyrics and arranged vocals for the New-Age award-winning Secret Garden, recorded with Irish hard-rockers The Mama's Boys, and composed a score for Ellen Hinsey (a Yale University "Young Poets" prizewinner), which was featured on NPR's "All Things Considered."
In 1998, she penned English lyrics for Indonesian sensation Anggun, whose subsequent album topped European and Asian charts three weeks after its international release and earned several Gold Records worldwide. The title cut, Snow on the Sahara, was chosen for SWATCH's 1999 world-wide ad campaign and has since been covered by Sarah Brightman. Nikki continues to adapt existing songs into English for some international artists and create all-new works for others, like Montreal-based blues-chanteuse Nanette Workman.
During a trip back to NYC, Nikki was invited by Scottish fiddler and bandleader Johnny Cunningham to sing on Thomas Moore's The Soul of Christmas (now a collector's item) on some duets with Susan McKeown (she had previously guested on the Irish singer's  Bushes And Briars), and contributed a track to the Parents' Choice Silver-Medal-winning Celtic Dreams compilation (Ellipsis Arts - 2004). Now a resident of Vermont, she recently earned a Masters' Degree and teaches French in elementary schools and at a local university. She is part of a mutually supportive and highly adventurous locally-based crew of musicians, some of whom appeared on her latest album, Invisible Angel, and regularly sits in with contra-dance groups and visiting stars like The Klezmatics and Patrick Street.
written by Christina Roden